Help / FAQ
Thank you for visiting Spirit of Horse eCards. We hope you enjoy your experience with us. Please let us know if you have any difficulty or questions using the site. If you get any error messages, please cut and paste them in an email to us at help@spiritofhorsecards.com so that we might more quickly solve your problem.
Problems logging in after you've subscribed:
You could have a problem logging in after you've subscribed if:
You had a typo in your original subscription email address or password, or in your login attempt. If your original subscription information had a typo in it, when you try to login with the correct information, the site will not recognize your login. We suggest that you check the confirmation email with your login information that you received when you subscribed.
If your login still doesn't work, you can reset you password yourself.
You/your computer has disabled the "cookies" function that enables our (or any) website to remember who you are from page to page as you use the site.
You get the message "Invalid email address" when attempting to send a card
Please double-check the address. Also, make sure you have
no spaces in the address
– especially at the end of the address. You can check this by clicking your mouse to insert a cursor in the Recipient's Email field after the email address - the blinking cursor should be right up against the end of the address.
How to send a card via Facebook
Follow the usual procedure of selecting a card and click Send this eCard
Address the eCard to send to Your Own email address
Compose the eCard message to an individual (to share through Messenger) or to your Facebook friends (to share to everyone on Facebook)
Once you have SENT the eCard (emailed to yourself) a Facebook link will appear Click to SHARE on Facebook
Select how you'd like to share it from the Facebook page message selection dropdown on the left: ie: Facebook, Private Message etc.
*The card link appears as the art the eCard thumbnail image, not a video
The recipient or viewers click on the card link to play it and read your message.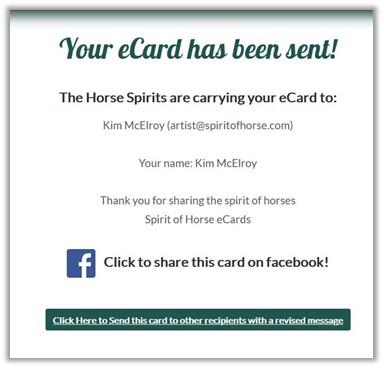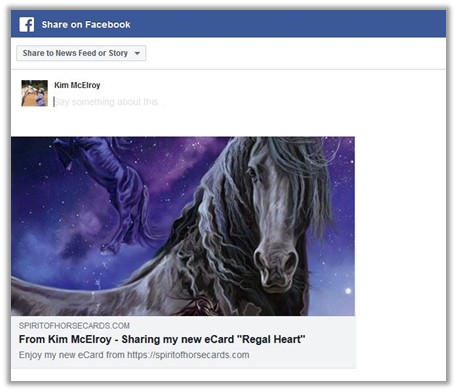 Sent Cards not being received or opened
If a recipient says that a card you sent was never delivered, the first thing to check is whether we received your request to send the card. You can check this by logging on to
spiritofhorsecards.com
and clicking the CARD HISTORY option in the menu above. (Note you must log on first or this option will not be visible.)
If the card has been opened you will see the date and time the card was opened. If the card was not opened, there are a few things that may have occurred.
Usually, a card is undeliverable because either the address you gave was incorrect, or there was some kind of spam filter or other obstruction that prevented delivery of the eCard email notification. Unfortunately spam filters do often catch eCard email notifications and we have no control over how a recipients email filters are set. Also, even if the eCard email notification was delivered to the recipient's mailbox doesn't mean the recipient will have seen it! Many mail services include spam filtering facilities which will file suspect mail in a "quarantine" area, or even simply delete it.
An eCard email notification your recipient receives looks like this:

If a sent card didn't get opened when you review your Card History - please double-check the address - Common mistakes include:
entering .net instead of .com at the end of the address (or vice-versa)
forgetting to enter .uk or other international indicator after .com
entering the letter O instead of the number zero, or vice-versa
entering the letter i or lower-case L instead of the number 1, or vice-versa
entering "www" at the beginning of the address - "www" is for websites, not email addresses!
Another possibility is that the e-mail address you entered was incorrect - but was actually the correct address of someone else altogether!
If there is an error in the address you typed, and if you use our Address Book facility to store addresses of people you sent cards to, then please be sure to correct the address in the Address Book before re-sending a card. To do this, click Address Book in the menu above and next to the selected address, click Edit to change the address.
Resending Cards:
It is easy for you to re-send the card yourself: simply go to the Card History page in our website (you must log on first if you haven't already); then click Resend opposite the card in question.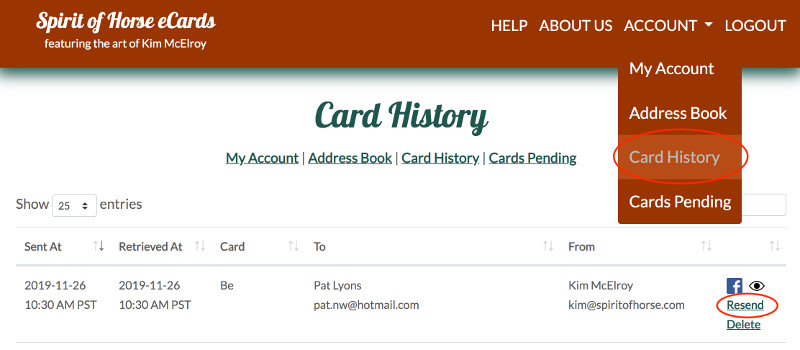 If Resending the card still does not work – there are some creative options for you to send your card:
You can send the card via your own email. Go to your Card History and select to View a card that was undelivered. Copy and paste the website address in the top bar of your web browser into a composed email and email your friend the link with your own personal message. For instance your email message could look like this:

From:  Your email address
To:  Recipient email address
Subject:  I have sent you an eCard from SpiritofHorseCards.com
Dear Sharissa,
I have sent you a Spirit of Horse eCard.
To view your eCard, click on the following link:
https://spiritofhorsecards.com/v.aspx?A=28720738473&ID1=15403&ID2=150403784

You can send an eCard to yourself (to your email address) from yourself - with a greeting in place which you'd like to send to your friend. Then when you get the notification of the eCard with the enclosed link, which looks like the above eCard email notification, you can forward that email link to your friend via your own email to them - and that way it may be more likely that a Spam filter will recognize it as from your email address. Please note, you won't be able to tell if the cards were opened using this method.
If you want to resend a greeting in a card that was undelivered - when in Card History - click View, and click and drag over your personalized text - you can highlight your original greeting - and copy and paste it into an eCard to send to yourself as above.
On rare occasions, a card will get a "bug" in it that causes it to not load or send properly. We would appreciate your sending us an email about any such "broken" cards that you encounter. Also, please note that in order for your cards to be sent on today's date or another date of your choosing, your computer must be set to the correct current date
Other Nifty Solutions to General Site Problems
If your experience with the site seems buggy, try some of the following solutions:
Make sure you're running the most current version of your browser. Older version of browsers will likely not function as inteneded!
Refresh/reload/re-cache any problematic pages. If you ever have problems with a page (on any website), RELOAD your page by holding the SHIFT key and clicking the Refresh/Reload button (an arrow in a circle) at the top of the browser. If that doesn't work, clear your history. Better yet, empty or clear your cache. Why? When you download pages from a website, your computer stores those pages in its own memory "cache" so that it can access pages faster the next time you go to them. The downside of this is that you're not necessarily getting the newest or corrected version of the web page from the site's web server. Reloading or Clearing the Cache will not affect your bookmarks or favorites in any way -- it will just force your computer to go directly to the site's web server for the newest versions of the pages.
A last resort - clearing "Cookies." If you have any problem subscribing/making a payment, we suggest that you clear your browser's cookies. The only ramification of this is that it will cause you to have to log in again to any sites that have your password saved. To find out how to clear cookies on your browser, search "clearing cookies" in Google .
Recipients receiving two "card sent" notices from you: You've probably hit the "Send" button twice. When sending cards, look at the browser's status bar (usually at the bottom) to see if it's processing your "send" click before you click again. The first click usually takes a few seconds to process, so you might think the first click didn't "take" or forgot that you clicked send already!
If none of the above circumstances seem to explain the situation, and you've tried re-sending the card and the recipient still hasn't received it, you may contact us for help.
Thank you, and again, feel free to contact us at help@spiritofhorsecards.com.