About the Artist

For over two decades Kim McElroy's equine art has graced popular greeting cards and collectibles, pastel originals, and fine art prints. Kim was born in 1966, under the powerful influence of the year of the Fire Horse, a rare sign in the Chinese calendar occurring only once every 60 years.  Perhaps this explains her uncanny ability to create horses that have a life all their own.

As a child, Kim imagined she was a horse, and later turned to drawing them as a way to express her dreams.  Though she never owned a horse until the age of 30, Kim's intuitive understanding of their nature went beyond physical proximity. 
On a daily basis Kim receives heartfelt letters from people who share the profound impact her artwork has on their lives.  People are so drawn to Kim's artwork, that they will often collect her Leanin' Tree greeting cards but refuse to part with them.  Her website, spiritofhorse.com, receives thousands of visitors per month.  She was thrilled to envision the potential to expand the experience of her work to include her writings, with the moving elements of flash movies put to music.  This unique format allows her work to touch even more people with the wonder of the horse.
Through her incredible mastery of pastels, and her expressive writings, Kim McElroy conveys the power and beauty of the horse's form... yet more than that, she offers us a timeless glimpse of its soul.

Visit Kim's website www.spiritofhorse.com which features her Originals and Commissioned Horse Portraits, custom signed Art Prints and unique Equine Gifts, Books and Films, inspiring stories, and free Weekly E-Inspirations featuring her artwork and writings. 

A note from the Artist:
For years I have been an avid sender of eCards.  Occasionally I'd search for horse eCards but never found any that were appealing.  When I realized the potential of my own art for eCards, I eagerly enlisted the aide of my talented website designer Davina to create Spirit of Horse eCards. 

About the Designer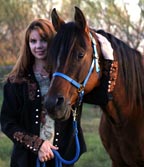 Davina Andree has been my devoted partner in creation for several years now.  She contacted me as a horse lover and a fan of my art, and when I discovered her talent, I was fortunately able to climb on board to her growing graphic and website design business, Arrowhead Graphics . 

About the Music


From the beginning I hoped that musician Vicki Logan would join us.  Vicki and I connected several years ago when she discovered my art and requested one of my paintings for the cover for her music cd titled "The Ride".  That cd was Vicki's first introduction to the world of horses and she soon found herself setting up booths at horse events and finding an entirely new audience for her music. 



I hope you enjoy viewing and sending Spirit of Horse eCards as much as we enjoyed creating them!

Warmly,
Kim McElroy